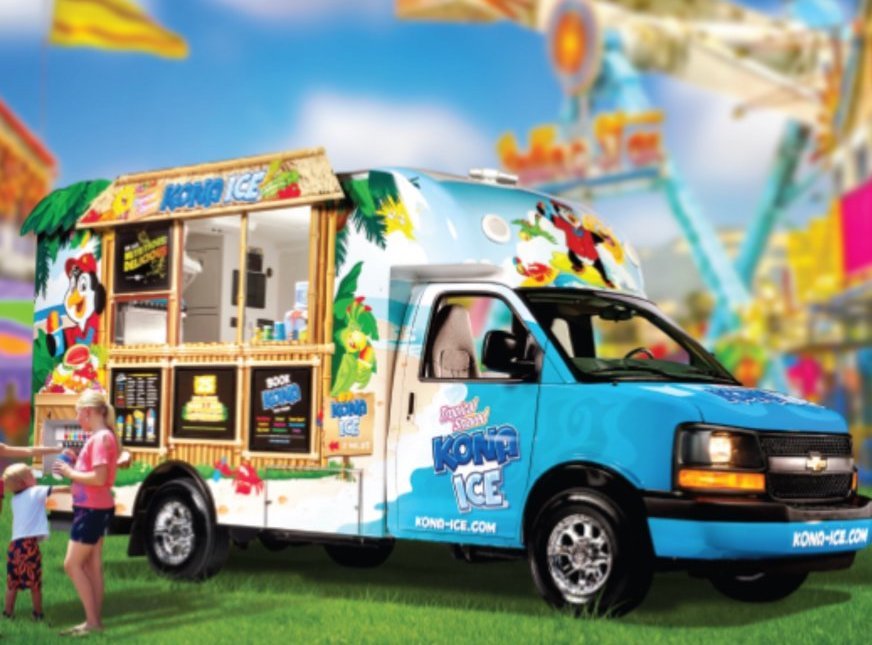 Kona Ice of Thousand Oaks
Trailer

,
Food Truck
Los Angeles, CA
16 Months

on Roaming Hunger
Food truck catering for your next event. Fast, easy and delicious. Book it here.
Get Started
Menu
Desserts
Strawberry'd Treasure
We sure do treasure this sweet flavor, so much so that we berry'd it! "X" marks the spot with this delicious goodness. This is a flavor worth looking for!
Lucky Lime
This little lime has the luck of the Irish! Want some of that luck to rub off on you? Then you'll have to give this sweet flavor a try!
Tiger's Blood
We hunted through all the jungles in Asia to find the most willing tiger to help give us some of their blood. This guy right here happily obliged.
Watermelon Wave
Looking for a rush of melon flavor? Hop on the Watermelon Wave! It'll send your tongue surfing on a giant wave of deliciousness!
Wedding Cake
Here comes the bride...eating a Kona? That's right! Rich in taste, this flavor will make you feel like you're attending a ritzy wedding reception!
Cotton Candy Pink
A fan favorite, this pink Cotton Candy flavor tastes just like the real thing. You'll swear you're at the circus!
Margarita
It's 5 o'clock somewhere! And that means it's time to try our Margarita flavor. Great alone or paired with any of our fruity flavors.
Monkey Business
We aren't monkeying around when we say this flavor is seriously delicious. The kids go absolutely bananas! Pun intended.
Chocolate
Everyone's favorite - chocolate. It's great on its own, but it mixes well with other flavors too - especially our fruit flavors!
Ninja Cherry
This cherry flavor is so bold, it might karate chop you right in the mouth. But like a good karate chop.
Blue Raspberry
Hands down, this flavor is our coolest flavor. It has a classic Blue Raspberry taste with a little bite that makes this one a go-to classic.
Paradise Pink Lemon
First she's sassy, then she's sweet - just like her pink lemon flavor! Sweet with a dash of tartness, this flavor is sure to delight!
Monster Mango
Ahhhh this flavor is out to get you! This monstrous, mouth watering flavor might be your new favorite.
Root Beer
Grab a mug and fill 'er up! This classic flavor is old time root beer at its very finest. Foam mustache not included.
Piña Colada
If you're looking for a little beach escape in a cup, look no further. Pineapple + coconut = happiness.
Bahama Mama
Paradise is calling and this flavor is answering! It's the perfect tropical punch blend of orange, pineapple and coconut.
Chocolate Mint
Pomegranate Açaí
Infused with real pomegranate, this flavor has great health benefits. Full of antioxidants, it's good for immune system and increases energy!
Hawaiian Dreamsicle
This delicious flavor is a dreamy concoction of orange and vanilla ice cream. It'll remind you of summer!
Caribbean Cherry +
Enhanced with acerola cherry, this flavor is a rich natural source of Vitamins C, A, B1, B2 and B3. Plus, it's delicious!
Watermelon Mint
This melon/mint combo is mid-summer in a cup. It's fruity, refreshing and sure to entice your taste buds.
Lavender Lemonade
Sweet lemon flavor combined with the delicate taste of lavender creates quite the refreshing combo.
Aprium Rosé Sangria
It's time to "wine" down with this delicious three-layered flavor, combining fruit and wine flavor notes.
French Vanilla Latte
Sophistication is the name of the game with this coffee flavor. Kick back and sip on this classic.
Mai Tai
This Polynesian flavor (made with pineapple, orange and lime) will send you straight to the islands.
Moonflower
We don't want to spoil all the fun. You're going to have to try this Kona exclusive for yourself!
Pineapple Creme
If you've ever dreamed of eating pineapple soft-serve ice cream but on shaved ice, this flavor is for you!
Coconut Lime
Combine a smooth coconut flavor with a tart lime and you get this classic tropical flavor. You put the lime in the coconut...
Blackberry Mojito
Classic Cuban mint mixes with a delicious blackberry flavor to create this instant mocktail classic.
Passion Fruit
This South American fruit packs a scrumptious punch. Colorful and sweet, it will not disappoint.
Rose Petal Lemonade
Floral notes mix with a tasty lemon flavor to make this one-of-a-kind, light and refreshing combination.
Cranberry Grape +
Concord grapes and cranberries both contain resveratrol and Vitamin C. Good for your tastebuds and good for your body!
Irish Coffee
When you want your coffee with a little bit of a kick, you make it Irish. No alcohol here, but it's still delicious!
Creme Brûlée
This delicacy is one of our more rich dessert flavors. Saturated with creamy and caramely notes, this is for anyone with a sweet tooth!
Wildberry Honey
The sweet berry notes in this flavor complement the smooth honey taste in a way that will delight your taste buds.
About Kona Ice of Thousand Oaks
Kona Ice Thousand Oaks brings the coolest gourmet desserts on wheels not just to Thousand Oaks, but to Malibu, Filmore, and beyond. They roll in the fun with the Kona Entertainment Vehicles that light up your special occasion with a colorful 'KEV' truck or sunset kiosk covered in dancing characters and LED lights, playing sounds of island music, and serving refreshing tastes of Hawaiian shaved ice.
The self-serve 'Flavorwave' draws guests into action drizzling delicious fruity flavors onto their custom cup of snow. There are sugar-free options, using natural stevia to avoid a bitter aftertaste. Kona offers the latest flavors like Pomegranate Açaí, Lavender Lemonade, Blackberry Mojito, or Mai Tai. Being health conscious is important to the Kona brand, so they're sweets are free of high-fructose corn syrup, GMOs, nuts, dairy, and cholesterol. Making sweet memories is Kona's jam, so don't hesitate to book them for your next event.
Book catering for your next event
Protected by our 100% Roaming Hunger Service Guarantee