Niche
|
Trailer
Los Angeles, CA
Super Great For
On-Set Catering
Fundraisers
Corporate Catering
Vegans & Vegetarians
We hope that you are inspired to be present and flow with divine light.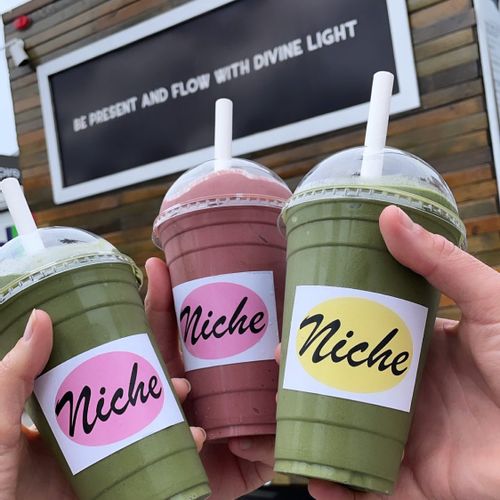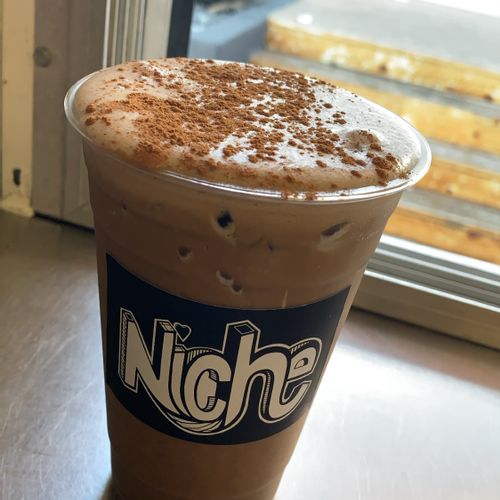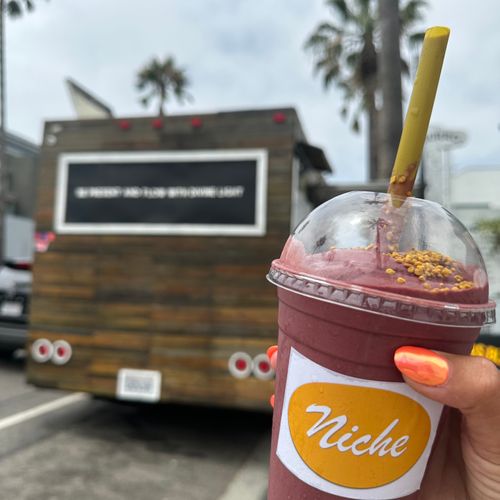 Niche Menu
Main
All is One
Espresso, Banana, Peanut Butter, Honey and Almond Milk
Manifest
Raspberries, Blueberries, 18 Green Supergreens, Peanut Butter, Agave, Oat Milk, Dates, & Protein
Heart Chakra
Ceremonial Matcha, Vegan Protein, Spirulina, Chlorella, Banana, Honey and Almond Milk
Green Goddess
18 Supergreens, Banana, Vegan Protein, Agave, Coconut Milk and Topped With Bee Pollen
Real Fruit Puree Smoothies
Mango Strawberry or Wild Berries
Coffee
House made Cold Brew, Drip Coffee,Espresso, Latte, Cappuccino, Mocha, White Mocha, Blended Mocha, Blended Vanilla & Chaga Latte
Tea
Ceremonial Grade Matcha, Chai and Tea by the bag.
Infused Red Bulls
Peach, Strawberry, Blackberry, Pineapple, Mango and Raspberry.
Sides
Alternative Milks
Oat, Almond or Coconut
Flavors
Desserts
Milkshakes
Vanilla, Chocolate, Orea, Peanut Butter, Espresso, Matcha Milkshakes topped with whipped cream
Bomb.Com
Oreo, Peanut Butter, Cold Brew Milk Shake
Drinks
Chaga Latte
Superfood Coffee mixture
Blended Mocha or Blended Vanilla topped with whipped cream
Espresso, your choice of milk, mocha or vanilla blend mix and ice.
Inspiration
Iced or Hot Vanilla Latte, Topped with Espresso and Caramel Drizzle
Perserverance
Iced or Hot Chai Latte with a shot of Espresso
LETS GET FESTIVE
Peppermint Mocha
Pumpkin Spice Latte
Cozy Cinnamon Chai Latte
Gingerbread Latte
Cranberry Lime Punch
Blended Pumpkin Pie
Blended Snow Flakes
Hot Apple Cider
Apple Cider Mocktail Mule
Buttery Pecan Cold Brew
Past Catering Events
7 event organizers have booked Niche using Roaming Hunger
Corporate Catering
March 2019 * Los Angeles, CA
100+ attendees
Corporate Catering
March 2020 * Los Angeles, CA
200+ attendees
Birthday Catering
December 2019 * Los Angeles, CA
30+ attendees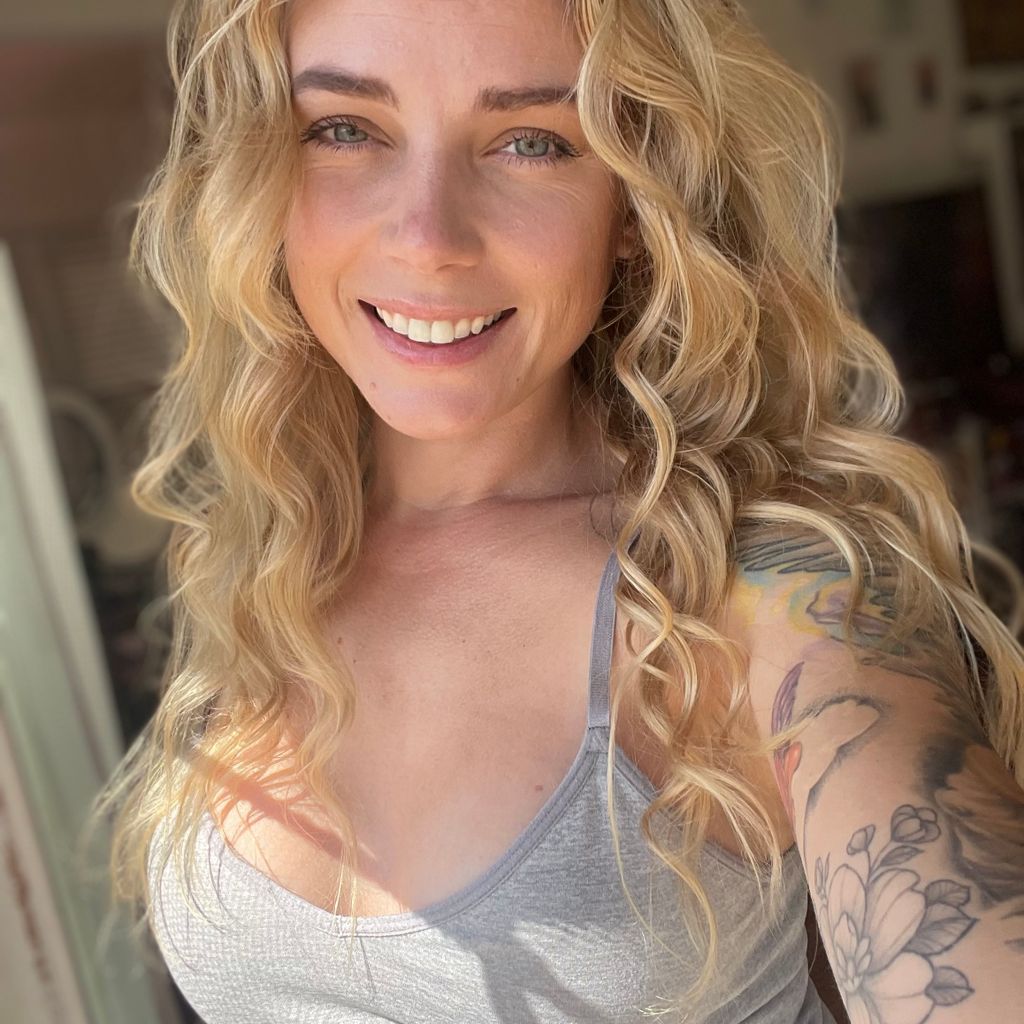 Meet Alyssa Verbeck
What is the story behind your business' name?
Niche was a name I thought of because it means a comfortable or suitable position in life or employment or a specialized segment of the market for a particular kind of product or service. I wanted to make a comfortable life for myself with freedom and I wanted to create a delicious and unique menu that was "Niche" and unlike any other menu I had ever encountered. I also wanted the customer service to be top notch and create relationships with anyone that supported our business and felt connected to us and our beverages.
About Niche
Niche is quite the unique food truck in Los Angeles, cornering the market in serving specialty drinks on the streets. Which is exactly what Angelenos want. It's more than serving that morning cuppa joe on the go. Here, they've made specialty drinks that are especially satisfying for a refreshing experience you don't want to miss.

At Niche, they're brewing up a whole lot of goodness for your enjoyment. From classics like espressos and americanos to lattes, cappuccinos, mochas and cold brews, your inner caffiend will find complete and total satisfaction here. Of course, if blended drinks are your thing, they've got frapps for days, not to mention ceremonial grade matcha, chaga, tea, infused Red Bull and hot chocolate.

But really, it's all about those specialty smoothie concoctions with all original recipes to tantalize your tastebuds. These specialty smoothie recipes contain a mixture of super greens, vegan protein, dates, fresh berries, peanut butter, açaí, mushroom mixtures, and some even with coffee and matcha to give you that extra pep in your step. And honestly too many ingredients to list out here. You'll just have to try 'em out yourself. So why wait for that opportunity? Beat it to the punch by finding Niche in LA, or have 'em cater your next event. Trust us. It's well worth it.
Frequently Asked Questions
Does Niche do catering, and are they available on my date?
Yes, Niche is registered for catering and/or vending events on Roaming Hunger. In terms of availability, we don't manage their calendar. The best way to find out if they're available is to fill out your event information and see if they respond.
Is Niche available in my city?
Niche serves Los Angeles and surrounding areas. Keep in mind that for catering, they may add a travel fee if it's outside of their normal travel radius.
What type of food does Niche serve?
Niche serves the following cuisine types: Beverages, Coffee, Tea, Smoothies, Sweet
What types of services (equipment) does Niche have?
Niche has the following types of services: Trailer
Book catering for your next event
Protected by our 100% Roaming Hunger Service Guarantee