Preferred Caterer
Popup Catering

,
Food Truck
San Jose, CA
10+ Years

on Roaming Hunger
Super Great For
Huge Events
Corporate Catering
Vegans & Vegetarians
Weddings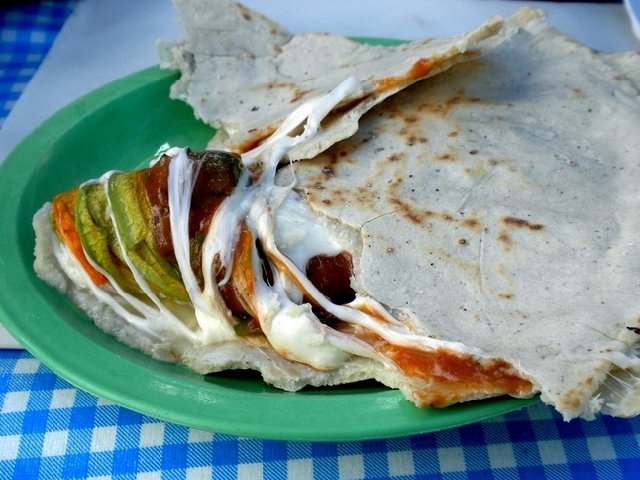 Menu
Appetizers
Albondigas
The classic meatballs served all over Mexico
Savory Stuffed Dates
Applewood smoked bacon stuffed with cabrales cheese, Mexican chorizo and pine nuts
Mini Molote
A Oaxacan classic consisting of fried corn dough rolls filled with potatoes and chorizo, served with small side of guacamole
Empanada de Amarillo
Handmade corn tortilla folded and stuffed with mole Amarillo, quesillo, epazote and your choice of protein (GF)
Tostadas
Toasted slowly over the comal to perfect crispiness with all your favorite toppings
Spicy Pork Spare Ribettes
Pork spare ribettes with a chipotle glaze and jicama slaw.
Ceviche Tostaditas
Lime, ginger, red onion, and South American yellow chile, served on crispy corn tortilla rounds with mashed avocado and cracked black pepper oil
Deviled Eggs
Deviled eggs with a flavorful twist
Main
Oaxacan Burrito
Fresh-pressed corn tortilla filled with rice, beans, salsa, guacamole, crema, cheese, onion, cilantro, tomato and your choice of protein (always GF) *Can be made (V) or (VE)
Roasted Chicken Wings
A crowd pleaser served with Sweet Chili or Mole Negro sauce
Mole Negro
Mole negro made with over 23 ingredients ground into a complex, smoky, subtly sweet, rich sauce, served with rice, beans and corn tortillas (GF)
Tacos
(2) Fresh-pressed, stone-ground corn tortillas with the filling of your choice, topped with cilantro, onions, salsa and guacamole (GF)
Carnitas
Tender-braised, caramelized pork with black beans, rice, guacamole and choice of salsa (GF)
Barbacoa de Res
Tender, stewed beef shoulder with fresh-pressed stone-ground corn tortillas, black beans, guacamole and pickled onions (GF)
Oaxacan Nachos
Tortilla chips topped with black beans, cheese, guacamole, sour cream, tomatoes, cilantro, mole, protein of your choice,Ve salsa of your choice and onions (Veg)(GF)
Camarones con Chipotle
Pan-seared shrimpwith a spicy chipotle sauce, rice, black beans and market-fresh vegetable of the day (GF)
Enchiladas de Coloradito
Fresh-pressed stone-ground corn tortillas stuffed, rolled, and served with our enchilada sauce, sprinkled with queso fresco, onion, and cilantro (GF)
Roast Butternut Squash Tamale
Tamale filled with fresh corn, butternut squash and guajillo salsa (V)(GF)
Quesadillas
Fresh pressed corn masa with quesillo and your choice of protein (GF)
Beer Battered Fish Taco
(2) Fresh-pressed corn tortillas with beer-battered fish, cabbage, black beans, guacamole, pickled red onion, cilantro and salsa of your choice (GF)
Wa Ha Ka Bowl
A bed of rice topped with organic vegetable of the day, black beans, guacamole, queso fresco, avocado, cilantro, tomato, salsa and your choice of protein
Tlayuda Tradicional
Handmade, large corn tortilla toasted over a griddle until crunchy and slightly burnt, layered with an asiento spread, black bean paste and sprinkled with cabbage and queso fresco
Chicken Mole Negro Tamale
23 ingredients that make up a complex, smoky, subtly sweet, rich black sauce with chicken, wrapped in banana leaves (GF)
Pork Tamale
Tamale filled with carnitas, fresh herbs and chili Serrano (GF)
Tacos
(2) Tacos with fresh pressed Corn Tortillas. Choice of – Organic Vegetable, Chicken, Carnitas, Barbacoa de Res & Steak. Served with Lime, Cilantro, Onions and Radish.
About Oaxacan Kitchen Mobile
Auténtica Comida Mexicana - Oaxacan Street Food at its best. Local Seafood, Sustainable Poultry and Meats, Organic Produce. Try the Molote, Tostaditas, and more!
Book catering for your next event
Protected by our 100% Roaming Hunger Service Guarantee