Poutine Brothers
|
Super Great For
On-Set Catering
Huge Events
Corporate Catering
Vegans & Vegetarians
Poutine Brothers Menu
Poutine
Classic
FRESH, hand-cut fries, Wisconsin white cheddar cheese curds, homemade brown gravy and chives
Short Rib
Fries, cheese curds, harissa gravy, braised beef short ribs and chives
Smoked Pork
Fries, cheese curds, brown gravy, smoked pork, and chives
Savory Chicken
Fries, cheese curds, brown gravy, house seasoned chicken with 4-hour sautéed onions, fried chicken skins and chives
Chicken Tikka Masala
Fries, cheese curds, brown gravy, tikka masala chicken, fried chicken skins and cilantro
Hangover
Tater Tots, cheese curds, gravy, fried egg, fried ham, drizzle of maple syrup and chives. ***Only available for longer services
Vegan Southwest
Fries, vegan mozzarella cheese, homemade vegan gravy, sautéed bell pepper and onions and chives
Vegan Classic
Fries, vegan mozzarella cheese, homemade vegan gravy and chives
Sausage (sweet, spicy or smoked)
Fries, cheese curds, brown gravy, sausage and chives
Burritos
Savory Chicken burrito
Hand cut fries, cheese curds, savory chicken with 4-hour sauteed onions, brown gravy and chives
beef brisket burrito
Hand cut fries, cheese, braised beef brisket, brown gravy and chives (+$1 per meal)
smoked pork burrito
Hand cut fries, cheese curds, smoked pork and brown gravy
Veggie parm cauli burrito
Hand cut fries, vegan mozzarella, 'parm' cauliflower, vegan gravy and dusted with a trio of spices
Rice Bowls
Quinoa bowls
Quinoa, mixed greens, corn, lightly dressed with balsamic vinaigrette and choice of protein
Teriyaki Chicken Rice bowl
white rice, mixed greens, beans and green onions
Carne Asada Rice Bowl
white rice, mixed greens, beans and green onions
Grilled Cauliflower rice bowl
grilled cauliflower tossed in nutritional yeast (vegan/vegetarian), white rice, mixed greens, beans and green onions
More Entrees
Vegetarian spaghetti pasta
Spaghetti pasta with olive oil and garlic sauce and parmesan cheese with a slice of garlic bread
Spaghetti pasta with pesto
sous vide chicken breast, feta cheese crumbles, cherry tomatoes and parmesan
Spaghetti pasta with marinara sauce
meatballs and parmesan cheese with a slice of garlic bread
MEsquite jackfruit sliders
(vegetarian) served with pickled onions on Hawaiian rolls
Crispy Chicken OR Smoked Pork Sliders
Sliders served on hawaiian rolls, with pickled onions!
Drinks
Bottled Water / Canned soda
Catering Packages
Poutine Brothers has 1 public catering package(s) and can also offer custom catering packages. Pricing will depend on the event date, number of eaters, travel distance, and other factors such as tax.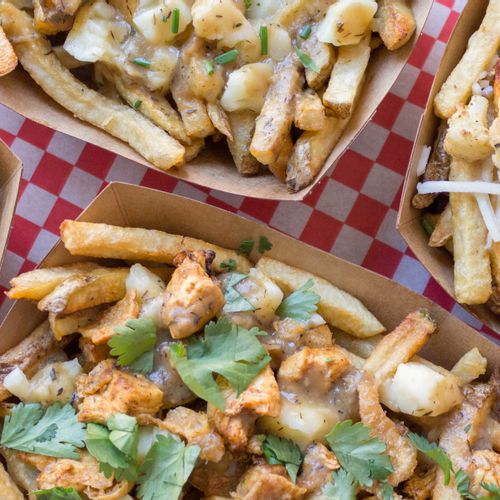 Poutine Fries and More!
Poutine Fries: Classic Poutine, Beef Brisket Poutine, Smoked Pork Poutine
Other: Chicken Tenders + Fries, Buffalo Chicken Fries
Past Catering Events
48 event organizers have booked Poutine Brothers using Roaming Hunger
Other Catering
July 2020 * El Monte, CA
120+ attendees
Other Catering
July 2020 * Temple City, CA
120+ attendees
Corporate Catering
October 2020 * Los Angeles, CA
100+ attendees
About Poutine Brothers
Poutine Brothers is bringing that Canadian staple to the streets of LA in style. It's a food truck that's keeping to traditional preparation methods while updating it for the modern foodie scene, with a full bodied menu built to satisfy. At Poutine Brothers, they're keeping things fresh in every dish and on the menu. Get the classic poutine featuring a bed of handcut fries smothered in Wisconsin cheese curds and homemade gravy, or spice it up a bit: Poutine Brothers' has chicken tikka masala and tender short ribs loaded on top, along with vegetarian options to satisfy all eaters. But that's not all. You can substitute fries for sweet potato ones, tots or have 'em wrap it all up for your enjoyment. Oh, and they've also catered for the likes of legendary Canadian Seth Rogen. If it's good enough for him, then it's good enough for your next event, so what are you still reading this for? Find Poutine Brothers cruising in LA, or have 'em out to cater your next event. Trust us. They won't disappoint. MUST TRY
Hangover
- the cure for more than the munchies, this hearty dish starts with crispy tater tots loaded with Wisconsin white cheddar curds, homemade brown gravy, ham and a fried egg drizzled in maple syrup and fresh chives. Can you say yum?
Frequently Asked Questions
Does Poutine Brothers do catering, and are they available on my date?
Yes, Poutine Brothers is registered for catering and/or vending events on Roaming Hunger. In terms of availability, we don't manage their calendar. The best way to find out if they're available is to fill out your event information and see if they respond.
Is Poutine Brothers available in my city?
Poutine Brothers serves Los Angeles and surrounding areas. Keep in mind that for catering, they may add a travel fee if it's outside of their normal travel radius.
What type of food does Poutine Brothers serve?
Poutine Brothers serves the following cuisine types: Fries, Poutine, Sliders, Bowls, Burritos, Savory
What types of services (equipment) does Poutine Brothers have?
Poutine Brothers has the following types of services: Pop-Up, Food Truck
Book catering for your next event
Protected by our 100% Roaming Hunger Service Guarantee