Smoke in the City BBQ
Preferred Caterer
Popup Catering, Food Truck
Sanford, FL
6+ Years

on Roaming Hunger
Super Great For
On-Set Catering
Huge Events
Corporate Catering
Weddings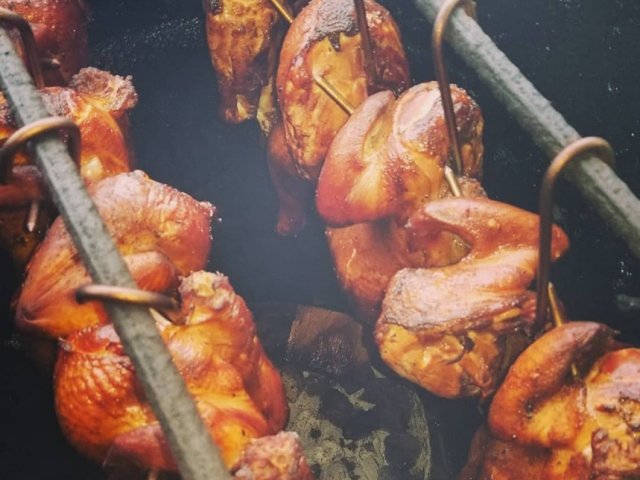 Menu
Appetizers
Sample Sliders
Choice of Brisket , Pork or Brisket A smaller version of our normal sandwich's served
Loaded Mac Sliders
Smokehouse Mac and Cheese Topped with a choice of Brisket , Pork or Pulled Chicken Perfect Sample Size
Main
Pit-house Smoked Pulled Chicken
A whole bird, brined overnight, spice-rubbed, pit-smoked and Pulled. Then topped with our House BBq at serving
Cheesesteak
Shaved ribeye grilled to perfection tossed with grilled onion and smoky provolone cheese served inside a fresh hoagie roll.
Smoked Sausage
Cooked to perfection and sliced before serving and topped with BBQ sauce
Bacon Cheeseburger
Spare Pork Ribs
Smoked low and slow and Finger Licking Good
Hamburger or Cheeseburger
100% ground beef cooked to protection onsite Condiment and Topping options will be available. Such as Cheese, lettuce tomato, onions, pickles ect.
Chicken And Waffles
Buttermilk Waffels Topped with Fried Chicken and Syrup or Honey Bbq Sauce on the side. Sweet, Salty and tangy all rolled up in one bite.
Hot Dog
with Fries or chips
Fried White Fish
with hush puppies and Fries or Slaw
Chicken Tenders
with fries or chips
Fried Shrimp
with choice of Hush Puppy with Fries or Slaw
Brisket
Top quality beef is dry rubbed and slow-smoked over apple and hickory wood for up to 14 to 16 hours
Smoked Beef Ribs
Big and meaty beef ribs, spice-rubbed, slowly smoked
Spare Ribs
Select lean, juicy pork ribs, seasoned with Smoke in The City special rub, slowly smoked, then grilled
Pulled Pork
Tender pork shoulder smoked low and slow, hand-pulled and tossed in our own house-made BBQ sauce
Pit-Smoked Chicken
A whole bird, brined overnight, spice-rubbed, pit-smoked and smothered in our own house-made BBQ sauce
Smoked Out Wings
A half dozen roaster wings spice-rubbed, pit-smoked and then deep-fried to crispy perfection
Fried Ribs
Marinated pork ribs, pit-smoked and then deep-fried to crispy perfection
Smoked Chopped Jerk Chicken
Chicken quarters seasoned with a secret blend of island spices smoked to perfection. Then we drop in the fryer to create a crispy exterior while maintaining a juicy inside
Greens w/Smoked Turkey
Sliced Ham
Smoked to perfection thick slices of ham with a mustard brown sugar pineapple glaze
Sliced Turkey Breast
Smoked or fried herb sliced turkey breast
Sides
Smoked Mac and Cheese
6 different blends of smoked cheeses mixed with penne pasta and smoked to perfection
Cucumber Salad
Cucumbers, tomato and onions tossed in a tangy house vinaigrette
Smoked Cabbage
Hand shredded sauteed with peppers and onions the tossed with smoked turkey and finished off in our smoker
String Beans w/Smoked Turkey
Thinly sliced collared greens cooked with smoked turkey
BLT Salad
Lettuce and tomato salad tossed in ranch house dressing
Pinto Beans
Fresh pinto beans smoked and also cooked with smoked meat
Hillbilly Beans
Bake beans smoked with peppers and onions, brown sugar and touch of honey
Yellow Rice
Yellow rice with secret house blend seasoning
Mixed Garden Vegetables
Mix of garden vegetables with a special herb garlic cream sauce
Pasta Salad
Pasta salad tossed in our Italian house vinaigrette dressing with cucumbers, tomatoes, peppers and onions
Garden House Salad
Lettuce, tomato, and carrots tossed in a ranch dressing
Cole Slaw
Hand shredded cabbage tossed with ranch slaw dressing
Cornbread Casserole
A creamy cornbread dressing with corn and green onions and peppers
Southern Style Potato Salad
Southern Homemade Style Mustard/Mayo Base Potato Salad
Plain Lays Potato Chips
Desserts
Cupcakes
Assorted sweet southern inspired cupcakes
Chocolate Dipped Cookie Tray
Simple but classic sweet cookies dipped in Dark and White Milk Chocolate
Chocolate Covered Oreos
Popular and delicious Oreos covered in chocolate
Chocolate Covered Rice Crispy Treats
Popular and delicious rice crispy treats covered in chocolate
Mix of Southern Style Desserts Shooters
Different flavor mix of Layered pound cake and fruits and Butter cream in between. Example of flavors Peach Cobbler , Strawberry Shortcake and Chocolate Lovers delight Banna Pudding
Chocolate Covered Strawberries
Plump Strawberries Dipped in Dark and White Chocolate
Smoked Sweet Potato Cobbler
Sweet potato filling covered with biscuit crispies and finished off in the smoker
Peach Cobbler
Peach filling poured into a large baking dish and covered with biscuit crispies before being baked
Mini Smoked Sweet Potato Pie
A traditional Southern holiday dessert mini-style and finished off in the smoker
Smoked Bread Pudding
Stale bread soaked up in a mixture of eggs, cream, and butter then cooked and finished off in the smoker
Pound Cake
A simple but classic sweet cake
Drinks
Drinks
Verity of can Sodas, Tea and Water
Breakfast
Egg and cheese biscuit sandwich
Egg and cheese between a biscuit
Sausage , egg and cheese biscuit sandwich
Pork Sausage topped with American Cheese and Egg between a flaky Biscuit
Bacon , egg and cheese biscuit sandwich
Bacon , egg and American cheese between a biscuit
Ham , egg and cheese biscuit sandwich
Sliced ham , egg and American cheese between a biscuit
Chicken , egg and cheese biscuit sandwich
Chicken , Egg and American Cheese between a biscuit
Pulled pork breakfast sandwich
Pulled pork topped with Fried egg and bbq sauce between a bun
Pulled Chicken Breakfast Sandwich
Pulled Chicken topped with fried egg an drizzled with bbq sauce between a bun
Smoke Brisket Breakfast sandwich
Smoke Beef Brisket topped with a Fried egg and drizzled with bbq sauce between a bun
Biscuit and Gravy
Sausage Gravy made from scratch with ground pork and seasonings smothered over homemade biscuit
HashBrown
Fried Hashbrown
About Smoke in the City BBQ
Smoke in the City BBQ is bringing some smokin' good eats to the streets of Sanford, Florida, the sunshine state's premiere spot for some southern 'q indulgence. This food truck is out to do BBQ the way it should be done: smoking everything low and slow over a pit for hours to ensure that smoky aroma and taste. And by everything, we mean everything. Sure, you're getting all the meaty staples, from fall off the bone baby back and spare ribs to top quality beef brisket, pulled pork and smoked chicken. But where Smoke in the City BBQ truly shines is in its offering of BBQ street foods, putting all this meat on a variety of comfort foods to tantalize your tastebuds, including loaded nachos, fries, stuffed baked potatoes and potato skins. Oh, and they're also smoking sides of the mac & cheese, cole slaw and hearty collard greens with smoked turkey in the mix. But then again we'd be remiss not to mention their smoked dessert, including smoked bread pudding and a mini smoked sweet potato pie. If that's not enough to get your mouth watering, we don't know what will. What we do know is this: Smoke in the City BBQ is available to cater your next event. Either that or find 'em smoking the competition in the food truck scene of Sanford. Trust us. It's a surefire way to some smokin' satisfaction. MUST TRY
Smoked Out Wings - tender chicken wings are dry rubbed and smoked to perfection before being deep fried for your enjoyment
Book catering for your next event
Protected by our 100% Roaming Hunger Service Guarantee