Snowbiz Sno-Balls
|
Food Truck
Los Angeles, CA
Super Great For
Indoor Events
On-Set Catering
Family Events
Huge Events
"There's No Business Like Snow Business"
Jonah Nside
of
Snowbiz Sno-Balls
Snowbiz Sno-Balls Menu
39 Sno-Ball flavors to choose from
Banana/ Cake Batter/ Ice Cream/ Mango/ Pineapple/ Ganny Smith Apple/ Lemon-Lime/ Magarita/ Tidal Wave/ Zephyr/ Bahama Mama/ Georgia Peach/ Mai Tai/ Dreamsicle/ Orange/ Nectar/ Orchid Vanilla Magic/ Pink Champagne/ Grape/ King Cake/ Candy Apple/ Cherry/ Cotton Candy/ Hawaiian/ Strawberry/ Strawberry Cheesecake/ Strawberry Daiquiri/ Tigers Blood/ Tutti Frutti/ Watermelon/ Blueberry/ Blue Raspberry/ Bubble Gum/ Black Cherry/ Chocolate/ Coconut/ Pina Colada/ Wedding Cake
Past Catering Events
15 event organizers have booked Snowbiz Sno-Balls using Roaming Hunger
Birthday Catering
July 2021 * Los Angeles, CA
25+ attendees
Corporate Catering
August 2021 * West Hollywood, CA
50+ attendees
School/University Event Catering
July 2021 * PACIFIC PALISADES, CA
25+ attendees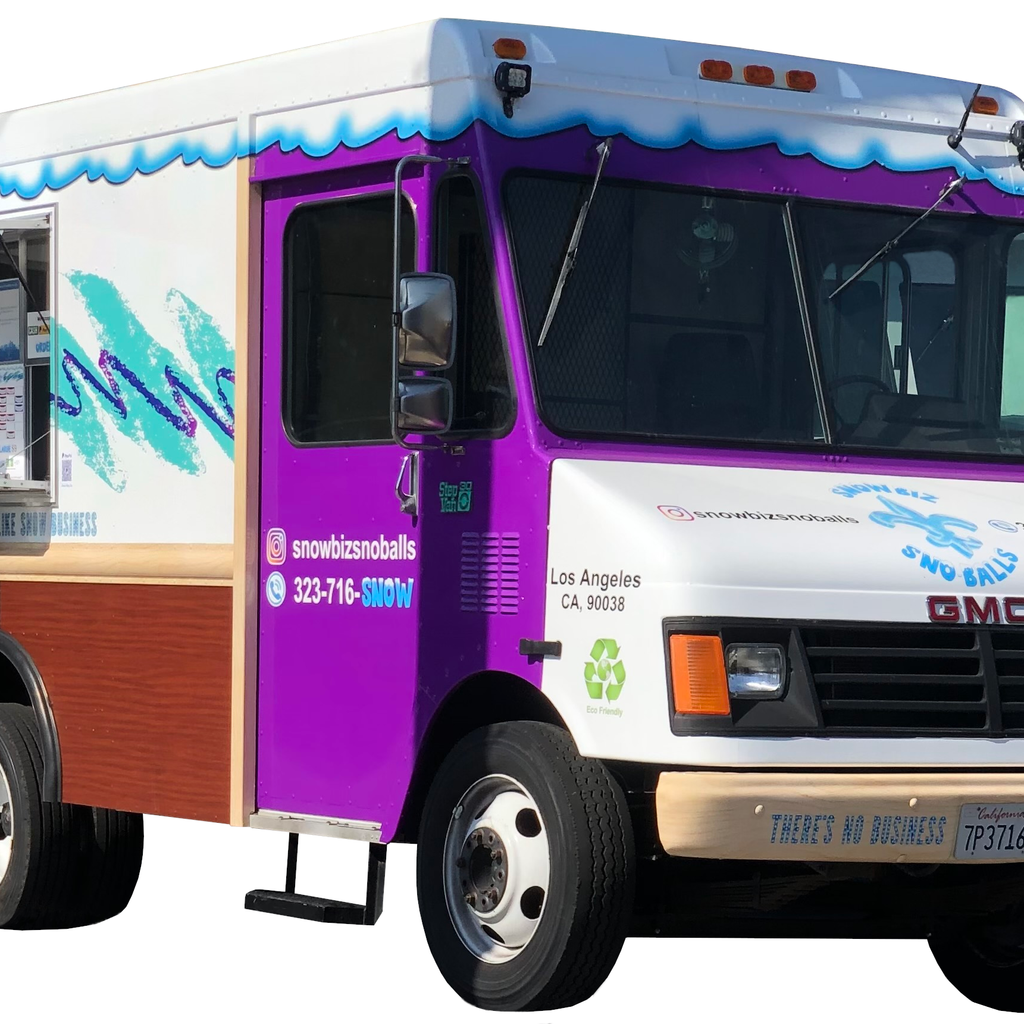 Meet Jonah Nside
What is the story behind your business' name?
Since 1934 Sno-Balls in Louisiana have been similar to what the rest of the country calls shaved ice or snow cones. Before the 1930s ice was manually scraped from a block of ice, producing a coarser, crunchier version of the Sno-Ball. A Sno-Ball is a New Orleans confection made from blocks of ice transformed into mounds of delicate snow-like flakes then flavored with cane sugar syrup. Commonly confused with shaved ice or snow cone's, the ice of a Sno-Ball is fine and fluffy; while shaved ice or snow cone's ice is coarse, crunchy, and granular. Moreover, in shaved ice & snow cone's the flavored syrup sinks to the bottom of the cup; while in a Sno-Ball the ice absorbs the syrup. Most of the retail "Sno-Ball" outlets in Louisiana spell the name of their product Sno-Balls without the w. This spelling identifies the product to all New Orleanians and indicates an ethnic heritage to the long standing tradition. This spelling further separates the Sno-Ball from the chipped ice of a snow cone or shaved ice.
About Snowbiz Sno-Balls
The City of Angels is in for a treat from the Big Easy thanks to Snowbiz Sno-Balls. Specializing in New Orleans style sno-balls (delicately flaked ice flavored with cane sugar syrup), Snowbiz Sno-Balls puts a Mardi Gras in your mouth with such flavors as King Cake, Zephyr, and Cajun Red Hot. Look them up in Los Angeles, or bring them to your event to make it that much cooler.
Frequently Asked Questions
Does Snowbiz Sno-Balls do catering, and are they available on my date?
Yes, Snowbiz Sno-Balls is registered for catering and/or vending events on Roaming Hunger. In terms of availability, we don't manage their calendar. The best way to find out if they're available is to fill out your event information and see if they respond.
Is Snowbiz Sno-Balls available in my city?
Snowbiz Sno-Balls serves Los Angeles and surrounding areas. Keep in mind that for catering, they may add a travel fee if it's outside of their normal travel radius.
What type of food does Snowbiz Sno-Balls serve?
Snowbiz Sno-Balls serves the following cuisine types: Shaved Ice, Frozen Treats, Sweet
What types of services (equipment) does Snowbiz Sno-Balls have?
Snowbiz Sno-Balls has the following types of services: Food Truck
Book catering for your next event
Protected by our 100% Roaming Hunger Service Guarantee