Sugo - Traditional Italian Flavour
Preferred Caterer
Food Truck
Los Angeles, CA
3+ Years

on Roaming Hunger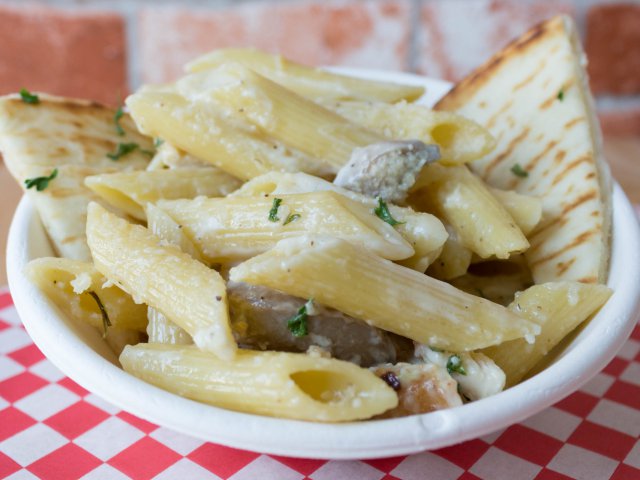 Menu
Main
Pasta Raffaellina
100% Ground Beef Bolognese Sauce, Parmesan, Basil
Pasta Roberto
Pesto Sauce, Parmigiano Cheese, Pecorino Cheese, Extra Virgin Olive Oil
Pasta Sandra
Chicken , Mushrooms, Panna Cream, Parmigiano Cheese, Parsley
Pasta With Meatballs
Meatballs homemade , Tomato Sauce, Parmigiano Cheese, Extra Virgin Oil
Pasta Vegetarian
White cream, pepper, olives, mushrooms, parsley, parmigiano cheese, onion
Gnocchi Homemade
Gnocchi homemade with Ragù bolognese
Panini Milanese
Chicken, provolone cheese, tomato, onion, salad, mayonnaise, salt, pepper
Panini Calabrese
Spicy salami, provolone cheese, cocktail sauce, Tabasco
Panini Caprese
Mozzarella cheese, tomato, pesto homemade, extra virgin oil, garlic
Panini with Meatballs
Meatballs homemade, provolone cheese, origan, parmigiano cheese, marinara sauce homemade
Panini Parmigiana (Vegetarian)
Three slides eggplant, marinara sauce, garlic, extra virgin oil, origan, provolone cheese, parmigiano cheese
Italian Hamburger with fries
Angus burger, salad, tomato, provolone cheese, onion, cocktail sauce
Italian Burrito with fries
Chicken, salad, tomato, red peppers, cocktail sauce, Tabasco, onion, garlic, lime juice
Fried Pizza
Dough Homemade fried with marinara sauce, provolone cheese, origan, parmigiano cheese, parsley
Calzone with Meatballs
Meatballs, marinara sauce homemade , provolone cheese, parmigiano cheese
French Fries with Meatballs
Hand cut fries with meatballs homemade with marinara sauce
Pizze le Siciliane with fries
Three small fried pizza's with fries with parmigiano cheese and garlic
Chicken Parmesan
Chicken with marinara sauce, mozzarella cheese, French fries
About Sugo - Traditional Italian Flavour
Sugo is a food truck serving heartier, richer, more flavorful meals than you're used to in LA. That's because they serve big Italian meals fit to place on a Sunday dinner table every time they set down, with a world of aromas and a universe of tastes dominating tastebuds at every turn.
Pasta, lasagna, ravioli, panini and more line up the menu, giving you options for days, every day you visit the truck. Sugo also does catering, covering events from Valencia and beyond, so call them up for weddings, birthdays and everything in-between. It's a continent's worth of charm and flavor, snugly nestled into Southern California. And you don't need a passport for these eats.
MUST TRY
Calabrese Panini - Spicy salami,provolone cheese, Tabasco chili and "SUGO" sauce
Pasta Alla Bruno - Cured pork guanciale, tomato sauce, olives, parmiggiano cheese and extra virgin oil
Upcoming Locations
No upcoming events currently listed.
Book catering for your next event
Protected by our 100% Roaming Hunger Service Guarantee