TACOMOTORA
Super Great For
Family Events
Smaller Spaces
Fundraisers
Corporate Catering
Menu
Appetizers
Street Corn
Fresh corn with sour cream, butter, mayonnaise, chipotle sauce, and cheese
Chips with Salsa
Fresh homemade chips with salsa
Main
Tacos al Pastor
Mexican Style Pork Taco topped with onions, fresh cilantro, and pineapple.
La Asada
Fresh grill steak, topped with fresh onions and Cilantro.
Birria taco
Birria is a wonderful traditional Mexican dish originally made with goat meat, but we use beef.
Chicken
Mexican-style breaded chicken with lettuce fresh guacamole and chipotle sauce
Fish Taco
Baja style fish taco
Shrimp Taco
Baja Style fresh shrimp taco
Sides
Pinto Beans
Mexican pinto beans
Cilantro Lime Rice
White rice with fresh lime and cilantro pieces
Chiles Toreados
Green chile on the grill
Desserts
Mexican Churros
Authentic Mexican style churros
Drinks
Mexican Coca Cola
Glass bottle coke imported from Mexico
Jarritos mandarin flavor
Mexican soda (glass bottle)
Jarritos Tamarind flavor
Mexican soda (glass bottle)
Salsas
Avocado Sauce
Fresh avocado spicy salsa
Habanero Sauce
Habanero chile, spicy sauce
Habanero Tamarind Sauce
Nice mix of habanero and tamarind spicy sauce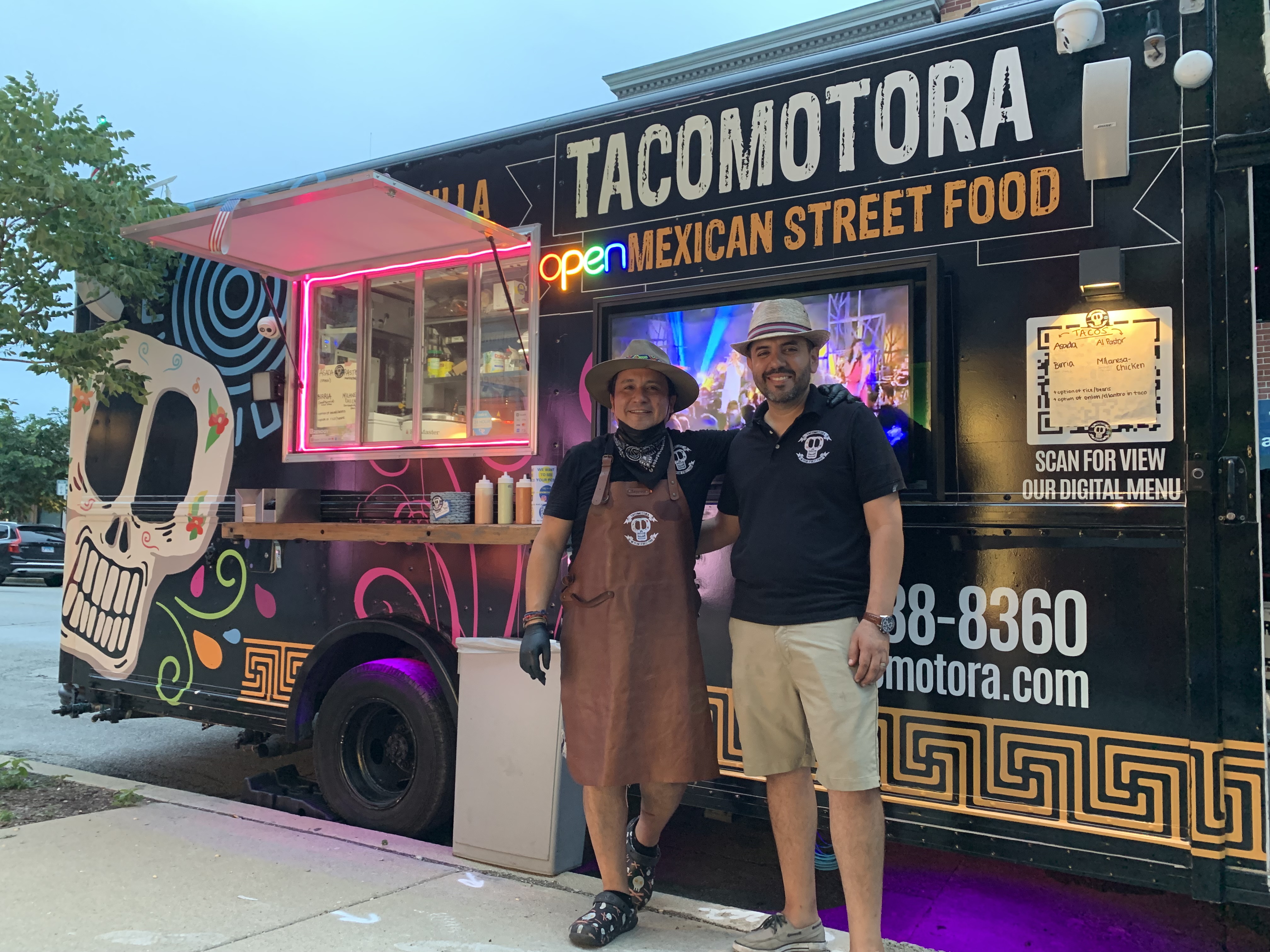 Meet Luis Rivadeneyra and Jesus Aguilar
What is the story behind your business' name?
TACO-MOTORA (female of the motor)
About TACOMOTORA
TACOMOTORA Food Truck is an energetic, family-owned, imaginative mobile food truck company aimed at offering high-quality, moderately priced, occasionally unusual foods using only local and natural ingredients.
Book catering for your next event
Protected by our 100% Roaming Hunger Service Guarantee