The Tropic Truck
Preferred Caterer
Food Truck
Los Angeles, CA
5+ Years

on Roaming Hunger
Super Great For
Custom Menus
Fancy Affairs
Huge Events
Corporate Catering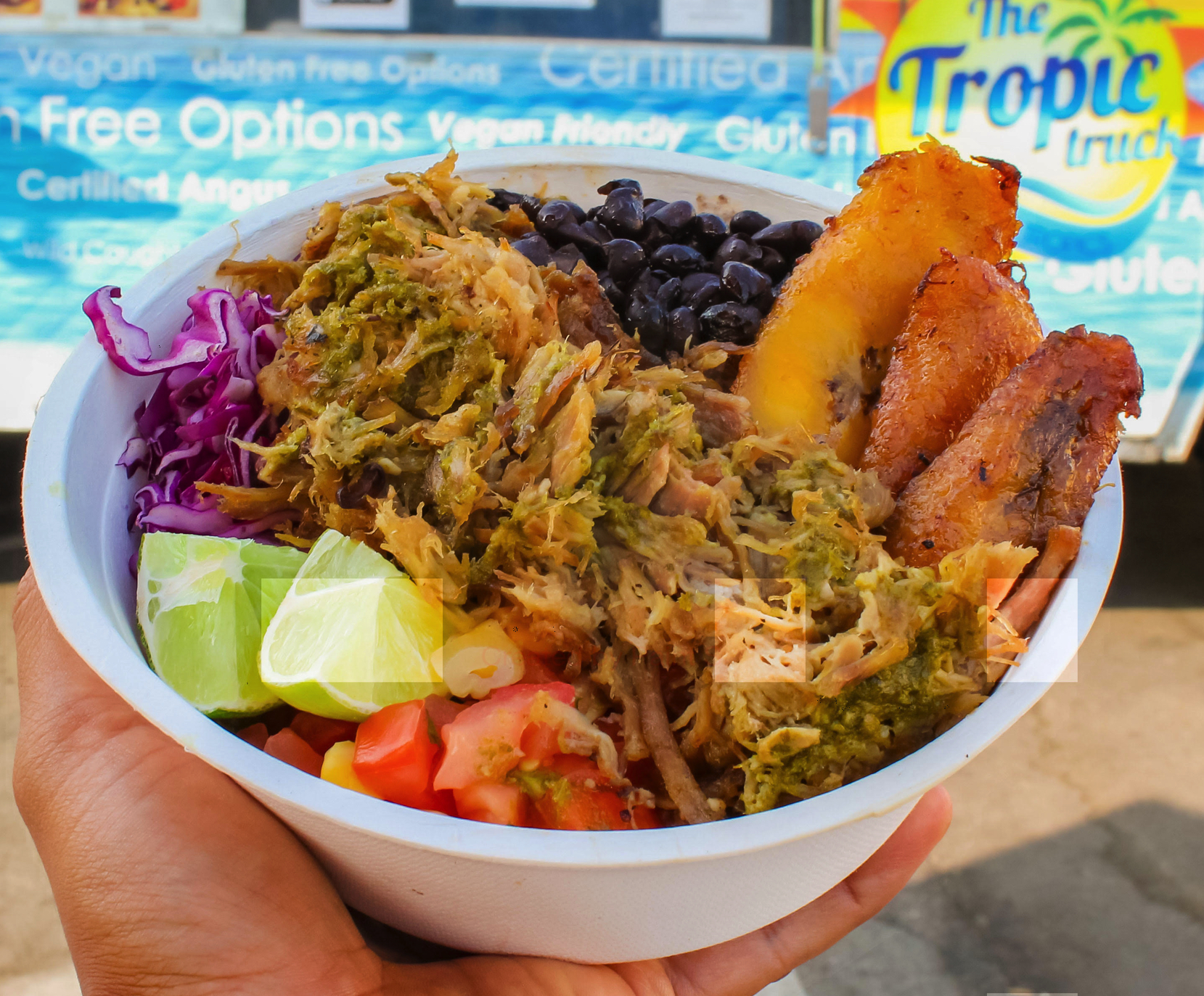 Menu
Bowls
Roasted pork Bowl
Served With Saffron Rice Or Romaine Lettuce, Black Beans, Sweet Plantains, Pico De Gallo, And Red Cabbage Slaw
Grilled Jerk Chicken Bowl
Served With Saffron Rice Or Romaine Lettuce, Black Beans, Sweet Plantains, Pico De Gallo, And Red Cabbage Slaw
Angus Ribeye Bowl
Served With Saffron Rice Or Romaine Lettuce, Black Beans, Sweet Plantains, Pico De Gallo, And Red Cabbage Slaw
Grilled Shrimp Bowl
Served With Saffron Rice Or Romaine Lettuce, Black Beans, Sweet Plantains, Pico De Gallo, And Red Cabbage Slaw
Jerk Veggie Bowl
Served With Saffron Rice Or Romaine Lettuce, Black Beans, Sweet Plantains, Pico De Gallo, And Red Cabbage Slaw *Can be made (V)
Mahi Mahi Bowl
Served With Saffron Rice Or Romaine Lettuce, Black Beans, Sweet Plantains, Pico De Gallo, And Red Cabbage Slaw
Lobster Bowl
Served With Saffron Rice Or Romaine Lettuce, Black Beans, Sweet Plantains, Pico De Gallo, And Red Cabbage Slaw
Tacos
Steak Tacos
Grilled Steak, Hand made tortillas, Pico de gallo, Sauces on the side
Shrimp Tacos
Corn Tortillas Topped With Pico De Gallo, Red Cabbage, And Lime-tarragon Aioli
Lobster tacos
Corn Tortillas Topped With Pico De Gallo, Red Cabbage, And Lime -tarragon Aioli
Mahi Mahi Fish Tacos
Corn Tortillas Topped With Pico De Gallo, Red Cabbage, And Lime-tarragon Aioli
Roasted pork tacos
Corn Tortillas Topped With Pico De Gallo And Chipotle Aioli
Grilled Jerk chicken tacos
Corn Tortillas Topped With Pico De Gallo And Lime-tarragon Aioli
Veggie tacos
Corn Tortillas Topped With Pico De Gallo, Red Cabbage And Chipotle Aioli Or House-made Vegan Cheese
Quesadillas
Jerk Chicken Quesadilla
Served On A Large Flour Tortilla With Monterey Jack Cheese, And Lime-tarragon Aioli
Roasted Pork Quesadilla
Served On A Large Flour Tortilla With Monterey Jack Cheese, And Chipotle Aioli
Angus Ribeye Quesadilla
Served On A Large Flour Tortilla With Monterey Jack Cheese, And Chipotle Aioli
Jumbo Shrimp Quesadilla
Served On A Large Flour Tortilla With Monterey Jack Cheese, And Lime-tarragon Aioli
Grilled Jerk Veggies Quesadilla
Served On A Large Flour Tortilla With Monterey Jack Cheese, And Chipotle Aioli *Can be made (V)
Lobster Quesadilla
Served On A Large Flour Tortilla With Monterey Jack Cheese, And Lime-tarragon Aioli
Specialty Fries
Lobster Fries
Shoestring Fries, Monterey Jack Cheese, Pico De Gallo, And Chipotle And Lime-tarragon Aoili
Angus Ribeye Fries
Shoestring Fries, Monterey Jack Cheese, Pico De Gallo, And Chipotle And Lime-tarragon Aoili
Veggie Fries
Shoestring Fries, Monterey Jack Cheese, Pico De Gallo, And Chipotle And Lime-tarragon Aoili *Can be made (V)
Grilled Jerk Chicken Fries
Shoestring Fries, Monterey Jack Cheese, Pico De Gallo, And Chipotle And Lime-tarragon Aoili
Shrimp Fries
Shoestring Fries, Monterey Jack Cheese, Pico De Gallo, And Chipotle And Lime-tarragon Aoili
Roasted Pork Fries
Shoestring Fries, Monterey Jack Cheese, Pico De Gallo, And Chipotle And Lime-tarragon Aoili
Wraps
Jerk Chicken Wrap
Wrapped In A Flour Tortilla With Saffron Rice, Black Beans, Sweet Plantain, Pico De Gallo, Monterey Jack Cheese, And Lime-tarragon Aioli
Angus Ribeye Wrap
Wrapped In A Flour Tortilla With Saffron Rice, Black Beans, Sweet Plantain, Pico De Gallo, Monterey Jack Cheese, And Chipotle Aioli
Jumbo Shrimp Wrap
Wrapped In A Flour Tortilla With Saffron Rice, Black Beans, Sweet Plantain, Pico De Gallo, Monterey Jack Cheese, And Chipotle Aioli
Mahi Mahi Wrap
Wrapped In A Flour Tortilla With Saffron Rice, Black Beans, Pico De Gallo, Monterey Jack Cheese, And Lime - Tarragon Aioli
Lobster Wrap
Wrapped In A Flour Tortilla With Saffron Rice, Black Beans, Pico De Gallo, Monterey Jack Cheese, And Lime - Tarragon Aioli
Roasted Pork Burrito
Wrapped In A Flour Tortilla With Saffron Rice, Black Beans, Sweet Plantain, Pico De Gallo, Monterey Jack Cheese, And Chipotle Aioli
Grilled Jerk Veggies Wrap
Wrapped In A Flour Tortilla With Saffron Rice, Black Beans, Sweet Plantain, Pico De Gallo, Monterey Jack Cheese, And Chipotle Aioli. (Vegan Wraps Are Made With Housemade Vegan Cheese) *Can be made (V)
Sides
Seasoned Fries
Shoestring fries tossed in our secret spice mixture (GF)
Side Salad
Romaine lettuce, red cabbage, black beans, pico de gallo and Citrus lime dressing.
Sweet Plantains
Sliced and fried sweet plantains served with cream (GF)
Desserts
Churros
Caribbean spiced churros
Drinks
Caribbean Mint Limeade (Vegan)
Watermelon and Cucumber Refresher (Vegan)
Pineapple Coconut Punch (Not Vegan)
About The Tropic Truck
A hot topic among LA foodies is the transcendent tropical fare you can find at The Tropic Truck! Why wouldn't it be when they're servin' up wondrous wraps with your choice of smoked Jerk Chicken, Mojo Shrimp, Slow-roasted Caribbean Pork, or Polynesian Marinated Steak? Mmmm. And with their tasty tacos, salads, and Island Seasoned Fries, it's no surprise that this Tropic Truck is the beach's top pick.
Book catering for your next event
Protected by our 100% Roaming Hunger Service Guarantee