Salad Catering in San Diego
Top Salad Caterers in San Diego
A gourmet deli on the move! Simply Fresh takes the classic deli concept and added wheels. Serving up fresh and delicious sandwiches, wraps, salads, quesadillas and more!
Preferred Caterer, Salads, Savory, Sandwiches
Food Truck
Dinny Skippers menu hasn't forgot about man's best friend... Our mobile concession menu offers something fresh for dogs and their masters!! We can even cater your next doggy birthday! Dinny Skippers Cafe offers a garden fresh brunch bounty... Coffee, Smoothies, Bagels, Subs, Seasonal Salads & Sweets! Nautical themed menu... Dinny Skippers Cafe offers... Specialty produce unique to the City of San Diego!!
Preferred Caterer, Salads, Savory, Sandwiches
Trailer
Curiocity Catering is San Diego's freshest food truck & catering company for celebrations, corporate events and street vending. Jason McAllister (Owner/Operator, CurioCity) and Antonio Friscia (Executive Chef, Stingaree) have worked together for the last 5 years and have teamed up to create a diverse, mouth watering menu focused on locally grown and produced ingredients. The menu will change seasonally as well span different ethnicities. You may find this creative, fresh food on the rue, your next business meeting or your next celebration. CurioCity Catering supports local farms and farmers' markets and is dedicated to using seasonal, sustainable and organic ingredients.
Preferred Caterer, Farm to Table, Organic, Burgers
Food Truck
Check Out The Best Salad Catering Menus Near You
FISH TACO
GRILLED FISH,PICO DE GALLO
ASADA QUESADILLA
CHEESE, PICO DE GALLO , GUACAMOLE
CHEESE BURGER
BEEF,TOMATOES, LETTUCE,ONION,CHEESE
Middle Eastern Salad Tacos
Spiced Chickpeas, Humus , Lemony Salas, Herbs, Scallions & baby tomatoes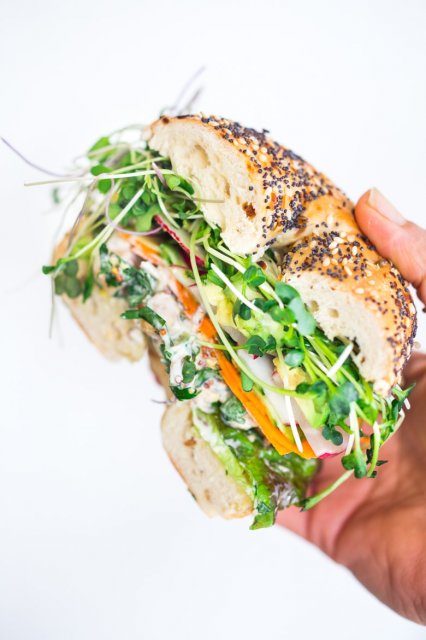 Spring Sandwich
Bagel or whole grain bread , smashed chickpea salad, crunchy carrots, radishes, cucumber, avocado, sprouts
Lentil wrap
Raw veggies as carrots, beets, cabbage, sriracha sauce & lentils
Why Work With Us?
Every food truck catering is protected by the 120% Roaming Hunger Service Guarantee.
We guarantee every catering, every time. Because food just tastes better when you have peace of mind. For more details, click here.
Protected
Payments
We hold the caterer's payment in escrow to guarantee you get fantastic day-of service. Our vendors get paid in full only after each event, ensuring your payment is protected.
Just-in-Case
Support
Every event booking comes with our Just-in-Case Support program to make sure that if anything unforeseen happens, we can have a great replacement ready to roll.
Verified
Caterers
With a network of over 16,000 food trucks, carts, pop-ups, and caterers, we offer the best, proven selection of reliable and delicious catering options.
We are
Pros
Facilitating over ten million meals since our inception, we know what it takes to make your event a yummy success. Book with Roaming Hunger knowing that you are working with the most experienced team in the industry.
Salad Food Truck Catering For Any Event In San Diego
How It Works
1
Give Us Details
Tell us when & where you want food truck catering.
2
Choose Your Cuisine
We'll send you a list of available food trucks.
3
Get Ready to Dig In
We'll negotiate the best rate and coordinate the logistics.
Just a few of the people who have eaten lunch with us