Burger Catering in Seattle
Experience food prepared in front of your eyes. Delicious burger catering from local caterers, food trucks, carts, pop-ups, and restaurants.
Top Burger Caterers in Seattle
Jessica's Unique Bite Burgers is an authentic Mexican burger food truck. They offer a unique twist on burger flavors, and offer a complete range from meat to vegetarian and gluten free options. At Jessica's Unique Bite Burger you will be able to enjoy fresh and hot burgers made to order using fresh local produce. Each burger tells a different story and can be paired with the perfect side, they offer catering in the Seattle area too!
Top Caterer, Burgers, Savory, Vegetarian
Food Truck
Run by a talented team of burger architects who have sourced the finest local ingredients to craft their mouthwatering menu, Stacks Burgers features a lineup of delicious burgers with premium pasture-raised Northwest beef from Double D Ranch, Tillamook cheese, and your choice of homemade sauce, all on a toasty bun from The Essential Baking Company. The truck that once won "Best Food Truck 2016" at the Bite of Seattle and Taste of Tacoma is ready and waiting to serve you. There are a ton of burgers and chicken sandos on board, ranging in size and featuring a solid amount of toppings (like peanut butter, crispy onion strings, and pulled pork), but don't forget their crispy, golden fries, hand-cut from Washington State potatoes. If your mouth is already watering (cause like, why wouldn't it be?) do yourself a favor and track down Stacks Burgers on the streets of Seattle, or book them to cater your next event. MUST TRY The King — 8oz beef patty, American cheese, bacon, arugula, pickle, creamy peanut butter, and organic raspberry jam
Preferred Caterer, Burgers, Savory, Gastropub
Food Truck
Custom Menus, Huge Events, Corporate Catering
Skillet is a well renowned Seattle-based brand that has updated the modern American food scene for the better. With three restaurants throughout the city, they're known for serving upscale cuisine that utilizes local and seasonal ingredients. Now, they're making all that goodness available on the go, out of a food truck roaming the streets in style. At Skillet Street Food, you're getting that same fine dining delivered straight to you. From weddings to corporate and community events, there's nothing Skillet Street Food can't do for you. Breakfast, lunch, or dinner, they've got you covered, so don't delay. Call 'em up today, or find 'em in Seattle. You won't be disappointed. <strong>MUST TRY <li>The Burger</strong> - this all American classic is done up right with Skillet's very own bacon jam on top, with creamy bleu cheese and arugula on a tallow brioche bun</li>
Preferred Caterer, Burgers, Poutine, Sandwiches
Food Truck
Check Out The Best Burger Catering Menus Near You
poutine
hand cut fries, gravy, cheddar, grana padano, herbs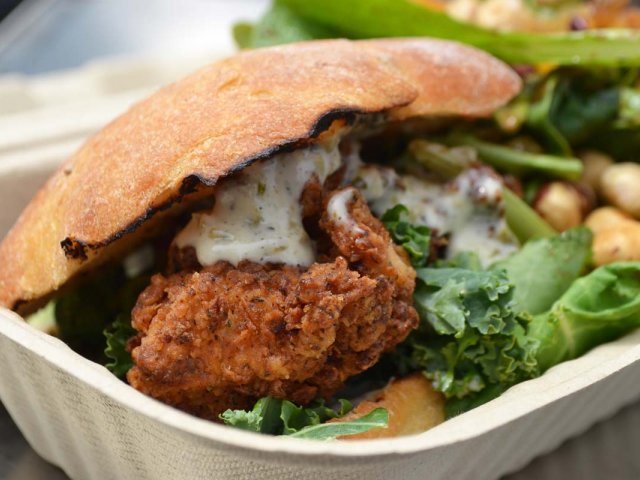 fried chicken sammy
fennel crusted, jalapeno aioli, kale, on a potato roll
kale caesar
buttered croutons, boquerones, parmesan
basic burger
american, iceberg, "pollos" special sauce, on brioche
French Fries
Crispy and hot shoestring french fries
Lil BEAST
Premium Beef, Bacon, American cheese, Crispy onions,Pickles, BBQ
CRY-FECTA
Premium beef, Pepper jack cheese, Crispy onions, Arugula, Fresh jalapeños , Jalapeno aioli
the burger
grass fed beef, arugula, bacon jam, bleu/brie on brioche
Why Work With Us?
Every food truck catering is protected by the 120% Roaming Hunger Service Guarantee.
We guarantee every catering, every time. Because food just tastes better when you have peace of mind. For more details, click here.
Protected
Payments
We hold the caterer's payment in escrow to guarantee you get fantastic day-of service. Our vendors get paid in full only after each event, ensuring your payment is protected.
Just-in-Case
Support
Every event booking comes with our Just-in-Case Support program to make sure that if anything unforeseen happens, we can have a great replacement ready to roll.
Verified
Caterers
With a network of over 16,000 food trucks, carts, pop-ups, and caterers, we offer the best, proven selection of reliable and delicious catering options.
We are
Pros
Facilitating over ten million meals since our inception, we know what it takes to make your event a yummy success. Book with Roaming Hunger knowing that you are working with the most experienced team in the industry.
Burger Food Truck Catering For Any Event In Seattle
How It Works
1
Give Us Details
Tell us when & where you want food truck catering.
2
Choose Your Cuisine
We'll send you a list of available food trucks.
3
Get Ready to Dig In
We'll negotiate the best rate and coordinate the logistics.
Just a few of the people who have eaten lunch with us