Sandwich Catering in Houston
Top Sandwich Caterers in Houston
The ever-so-eye catching Sizzles Food Truck is serving the people of Houston some crazy delicious street cuisine. The chefs here are offering up deluxe takes on a variety of veritable comfort food classics, granting Houston, TX residents a gourmet way to eat their feelings. Taking fresh baked buns and fresh ground meat, this crazy talented team has crafted a top-tier selection of burgers, loaded fries, and other tasty sides. Sink your teeth into juicy patties topped with everything from Wisconsin cheddar to pickled jalapeños to a drizzle of spicy buttermilk ranch. Grab fries piled sky-high with bacon, guacamole, and crumbled blue cheese. You get the idea – this is some true decadence, so head on out to Sizzle Food Truck the next time you're ravenous. Or, better idea? Have 'em out to cater your next event. MUST TRY H-Town Sizz — A beef patty smothered in a cheesy blend of Wisconsin cheddar and pepper jack plus bacon, guacamole, lettuce, tomatoes, diced onions, and pickled jalapeños all drenched in buttermilk ranch. Yum.
Preferred Caterer, Burgers, Sandwiches, Comfort Food
Food Truck
Welcome to a whirlwind of the worldliest wursts. Yummy Dog: The King of Sausage Dogs is cookin' up top-quality sausage dogs. This Houston-based trailer elevates the casual ballpark snack to gourmet levels via high-quality meats and toppings made from scratch. Avid carnivores across the Lone Star State don't wanna miss these eats. These 5.3-ounce gourmet sausages, served on lobster pretzel rolls, come suited up with vastly more than ketchup and mustard. With toppings ranging from sauerkraut to pickled onions to pineapple relish, you'll want to try every single sausage dog on the menu. However, the glory doesn't end with these smoky and international sausages. You'll also find smoked brisket, pulled pork, and pulled chicken in quesadillas, sandwiches, nachos, smoked chili, and much, much more. We could spend all day regaling the details, but that's taking time away you could use to head on out to Yummy Dog and sample this goodness yourself. Or, even better? Have 'em out to cater your next event. MUST TRY Tropical — A juicy sausage topped with pickled red cabbage and carrots drizzled in a full-bodied mix of brown mustard and tamarindo chutney.
Preferred Caterer, Burgers, Sandwiches, Savory
Trailer
Family Events, Huge Events, Corporate Catering
City: Houston The Toasted is an El Salvadorian / American fusion truck serving up American style food infused with El Salvadorian flavors.
Preferred Caterer, Sandwiches, Sweet, Savory
Trailer
Check Out The Best Sandwich Catering Menus Near You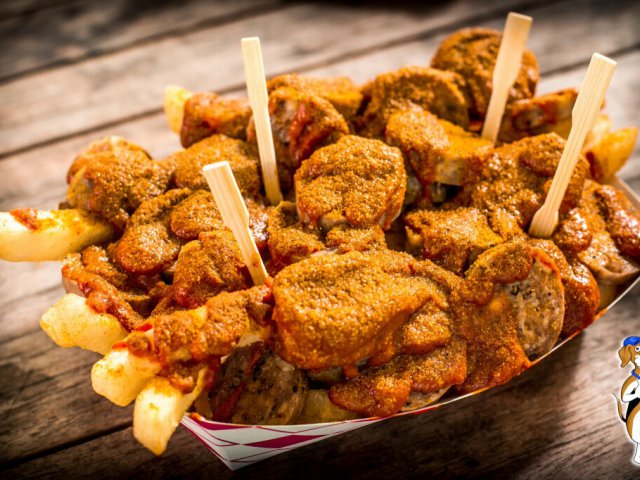 Currywurst
Pepperwurst (Bratwurst w/ Black Pepper) w/ French Fries & our made from scratch Curry Ketchup
Chicago
Smoked ALL BEEF (Pecan Wood) w/ Brown Mustard, Tomatoes, Pickles, Celery Salt, Onions, Pickled Jalapeños & Relish on a Pretzel Lobster Roll
The Yummy Dog
Pepperwurst (Bratwurst w/ Black Pepper) w/ Brown Mustard & our Signature Pineapple Relish on a Pretzel Lobster Roll
The Link
Smoked Boudin Link w/ Pickles, Pico de Gallo & Crackers
Twisted Kajun
Smoked Boudin w/ Brown Mustard, Pickles, Relish, and Pico de Gallo on a Pretzel Lobster Roll
Fredericksburg
Bratwurst w/ Smoked Chili & Cheese on a Pretzel Lobster Roll
Don Corleone
Italian Sausage w/ Grilled Onions, Marinara Sauce & Parmesan Cheese on a Pretzel Lobster Roll
Texan
Smoked ALL BEEF w/ BBQ Sauce, Grilled Onions, Crunchy Onions & Pickled Jalapeños on a Pretzel Lobster Roll
Why Work With Us?
Every food truck catering is protected by the 120% Roaming Hunger Service Guarantee.
We guarantee every catering, every time. Because food just tastes better when you have peace of mind. For more details, click here.
Protected
Payments
We hold the caterer's payment in escrow to guarantee you get fantastic day-of service. Our vendors get paid in full only after each event, ensuring your payment is protected.
Just-in-Case
Support
Every event booking comes with our Just-in-Case Support program to make sure that if anything unforeseen happens, we can have a great replacement ready to roll.
Verified
Caterers
With a network of over 16,000 food trucks, carts, pop-ups, and caterers, we offer the best, proven selection of reliable and delicious catering options.
We are
Pros
Facilitating over ten million meals since our inception, we know what it takes to make your event a yummy success. Book with Roaming Hunger knowing that you are working with the most experienced team in the industry.
Sandwich Food Truck Catering For Any Event In Houston
How It Works
1
Give Us Details
Tell us when & where you want food truck catering.
2
Choose Your Cuisine
We'll send you a list of available food trucks.
3
Get Ready to Dig In
We'll negotiate the best rate and coordinate the logistics.
Just a few of the people who have eaten lunch with us