Salad Catering in Phoenix
Top Salad Caterers in Phoenix
Hummus Xpress was founded on the basic idea that healthy, nutritious food should be flavorful and affordable. We fundamentally believe that wholesomeness, deliciousness, and affordability are not mutually exclusive concepts in the restaurant business. We are a restaurant that truly restores and empowers its community that is currently under-served by corporate chains. We are an eatery that was founded with the heart and mind of a chef. Hummus Xpress is the brainchild of chef Eddie Hantas and was founded in 2012. The restaurant was the first fast-casual Mediterranean establishment in the Valley that allows customers to build their own plate and has now become an iconic eatery.
Preferred Caterer, Healthy Food, Salads, Sandwiches
Pop-Up, Food Truck
Corporate Catering, Vegans & Vegetarians, Vegetarians
Husband and wife food trailer focused on making fresh and delicious dishes to please every pallet. Love and passion for food is the force that drives Taza. HOW WE GOT STARTED Our concept started around a very simple idea: Food should always taste delicious. Eating healthy food is on everyone's list. But with our busy lifestyle, we find ourselves eating what's accessible, even if we know it's not that good for us. But healthy food should not taste boring or bland, and it can be easy to find! That's why we started Taza: To prove that food that's good for you is also TASTY! TIME FOR CONFESSION Co-owner Sandra is a picky eater. "I like my food to be healthy, and taste good. I want everyone who eats my food to have the same expectation of me as I do of the restaurants and food carts that I frequent. Not only are you getting a great experience, you are also going to experience delicious flavors." WHAT WE'RE ALL ABOUT A Taza dish should be more than just a meal to fill your hunger, you want to enjoy what you're eating and come back for more. We strive to give you a memorable experience. Whatever dish you choose, it will be made with fresh, healthy ingredients full of flavor. SAY WHAT? The concept is simple: We want you to love what you ordered. Whether it's a bowl, wrap, salad, or panini, we realize that everyone is unique and we want your experience to be just as unique as you are.
Preferred Caterer, Salads, Wraps, Savory
Pop-Up, Trailer
Family Events, Huge Events, Corporate Catering
What's Fresh? asks a very important question: exactly what is fresh? Is it the bold venturing into something new? A different perspective? Or is it in reference to made to order food using the highest quality ingredients around? In this case, it's the latter, and it's all coming to you out of a food truck roaming the streets of Phoenix, AZ in style. At What's Fresh, they're offering up the freshest sandwiches and wraps around. Choose a sammie and you're getting a handful of goodness in their Porktastic or Turkeytastic variety, stuffed with home brined and oven roasted meats to curb your inner carnivorous cravings. Or wrap up your hunger in their hearty wraps, including black bean chicken and cranberry turkey for a Thanksgiving feast any time of year. Pair 'em with chips and the freshest lemonade, and you've got a meal worth bragging about. So do that, gather your friends and find What's Fresh? in Phoenix, or have 'em cater your next event. Trust us. It doesn't get fresher than this. <strong>MUST TRY <li>The Turkeytastic!</strong> - you're gonna wanna gobble up this sammie, stuffed with that same great turkey on a fresh baked club roll, topped with seasonal greens, Mom's homemade pickles, heirloom tomatoes and dijonnaise sauce</li>
Preferred Caterer, Locally Sourced, Organic, Healthy Food
Food Truck
Check Out The Best Salad Catering Menus Near You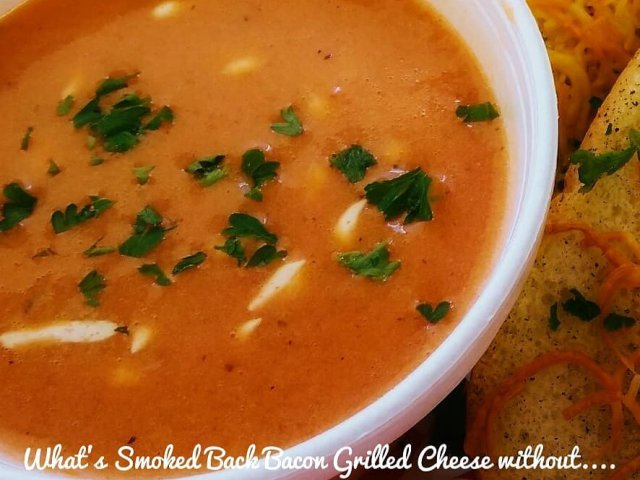 Rustic Tomato Soup
Made with whole tomatoes, veggies, spices and cream. Super flavorful and rich. Perfect for dipping that Smoked Canadian Bacon Grilled Cheese!
Mike's Meatloaf Grilled Cheese
House made meatloaf, 100% beef, seasonings and fresh diced vegetables. No fillers! On golden griddled sourdough with Havarti and American cheese. Ma's secret made from scratch gravy for dipping! Meal comes with a choice of 1 side listed below
Fresh Baked Fruit Hand Pies
Made fresh every morning with our tender flaky house pastry and topped with turbinado sugar and cinnamon.
Smoked Back Bacon Grilled Cheese and Rustic Tomato Soup
House made smoked back bacon with Havarti and American cheese on griddled sourdough. Served with a cup of our house made Rustic Tomato Soup.
Cubano Sandwich
Succulent mojo marinated roast pork shoulder, house smoked Canadian bacon, Swiss cheese, mustard and kosher dills on a crusty toasted roll. Choice of one side.
MTK Burger
1/3 lb Ma Taylor's legendary seasoned beef patty, house smoked Canadian bacon, Havarti & American cheese, with fresh lettuce, tomato, onion, a crunchy dill pickle & hot seasoned fries, or your choice of side salad, soup or salad
Chili Cheese Fries
A generous helping of Ma Taylor's house made chili over hot fresh fries, seasoned with our super secret seasoning, and topped with cheddar, Monterey jack, onions and sour cream. YUM!
Fresh Baked Chicken Pot Pie
Made from scratch! Savory whole chicken with homemade stock, fresh veggies and rich gravy, all simmered together then wrapped in our flaky house made pastry. Meal comes with a choice of 1 side listed below
Why Work With Us?
Every food truck catering is protected by the 120% Roaming Hunger Service Guarantee.
We guarantee every catering, every time. Because food just tastes better when you have peace of mind. For more details, click here.
Protected
Payments
We hold the caterer's payment in escrow to guarantee you get fantastic day-of service. Our vendors get paid in full only after each event, ensuring your payment is protected.
Just-in-Case
Support
Every event booking comes with our Just-in-Case Support program to make sure that if anything unforeseen happens, we can have a great replacement ready to roll.
Verified
Caterers
With a network of over 16,000 food trucks, carts, pop-ups, and caterers, we offer the best, proven selection of reliable and delicious catering options.
We are
Pros
Facilitating over ten million meals since our inception, we know what it takes to make your event a yummy success. Book with Roaming Hunger knowing that you are working with the most experienced team in the industry.
Salad Food Truck Catering For Any Event In Phoenix
How It Works
1
Give Us Details
Tell us when & where you want food truck catering.
2
Choose Your Cuisine
We'll send you a list of available food trucks.
3
Get Ready to Dig In
We'll negotiate the best rate and coordinate the logistics.
Just a few of the people who have eaten lunch with us