Hawaiian Catering in Los Angeles
Top Hawaiian Caterers in Los Angeles
Come on over to Aloha Fridays for a delicious taste of island life! This tropical truck is serving up authentic Hawaiian dishes like golden and crispy Chicken Katsu, plump Garlic shrimp, slow-cooked Kalua Pork, and much more. Of course your meal is not complete without the authentic sides of white rice, macaroni salad, and a fresh green salad. If you're craving beautiful food from a beautiful place, come out to this truck and say "Aloha!"
Preferred Caterer, Hawaiian, Savory
Trailer, Food Truck
Poke 2 Go truck brings you delicious and accessible Hawaiian Poke, mixing fresh high quality Ahi Tuna and local-sourced ingredients and unique flavors with a California Fusion. Check out this great truck on the streets of LA, or bring it to you!
Preferred Caterer, Hawaiian, Savory, Seafood
Pop-Up, Food Truck
Woody's Grill is grillin' up LA's best beach grub, on the go. It's a food truck that's nailed that laid back oceanside vibe, serving up grilled goodness that's perfect for those sun dazed days. At Woody's Grill, they're keeping to SoCal traditions at every turn. As a Southern California family, they know just what the natives want and crave. Speaks to their continued success, really. Here, you'll find classic grilled items alongside specialties you won't find anywhere else. Choose a bowl full of ooey gooey mac and cheese, or get a big ol' burger to curb your hunger on the curb. But Woody's Grill is famous for their loaded beach fries and chicken crack: shredded chicken marinated in southwest seasonings with black beans and corn in the mix. Get it in a quesadilla, loaded atop nachos and hot dogs, or stuff it into a burrito. Plus they've got the country's best homemade guacamole. Trust us, we've checked. For all this and more, find Woody's Grill in Los Angeles, or have 'em out to cater your next beach party. They won't disappoint. <strong>MUST TRY <li>Beach Fries</strong> - a piping hot bed of perfectly seasoned french fries is loaded with your choice of meat, shredded cheese, pico de gallo and homemade guac with a dollop of sour cream. Can you say yum?</li>
Preferred Caterer, Hawaiian, Savory, Burgers
Cart, Food Truck, Pop-Up
Family Events, Huge Events, Corporate Catering
Check Out The Best Hawaiian Catering Menus Near You
Original Poke
Raw Ahi Tuna, Yamasa soy sauce, sesame oil, & white sesame seeds.
Spicy Poke
Raw Ahi Tuna, OG recipe plus spicy mayo & Sriracha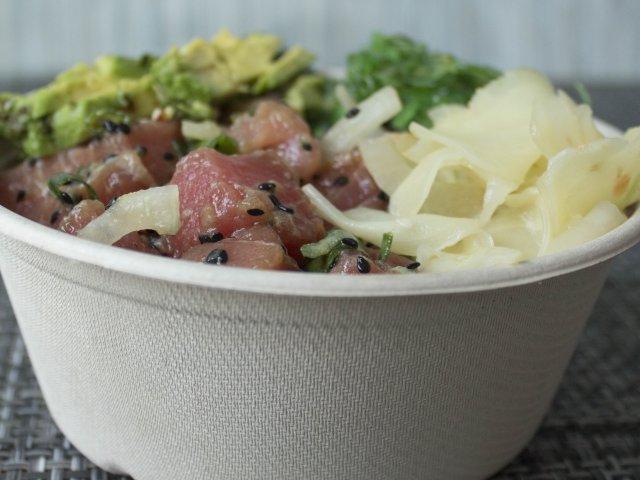 Wasabi Poke
Raw ahi tuna, dash of wasabi, "The OG" recipe, plus black sesame seeds
Aloha Poke
Raw Ahi Tuna, Aloha soy sauce, sesame oil, white sesame seeds, seasoned rice vinegar, sea salt, & crushed red pepper
Spam Fries
Julienned spam breaded in panko bread crumbs, deep fried, drizzled with teriyaki sauce & spicy mayo and finished with furikake seasoning (seaweed, sesame seeds)
Unicorn Drops
Strawberry and ube flavored mochi created separately and twisted together and formed into a mochi ball, battered in a waffle batter and deep fried. drizzled with unicorn colored condensed milk served on a bed of fruity pebbles and topped with unicorn sprinkles. also comes in an oreo crumble/chocolate drizzle version
Why Work With Us?
Every food truck catering is protected by the 120% Roaming Hunger Service Guarantee.
We guarantee every catering, every time. Because food just tastes better when you have peace of mind. For more details, click here.
Protected
Payments
We hold the caterer's payment in escrow to guarantee you get fantastic day-of service. Our vendors get paid in full only after each event, ensuring your payment is protected.
Just-in-Case
Support
Every event booking comes with our Just-in-Case Support program to make sure that if anything unforeseen happens, we can have a great replacement ready to roll.
Verified
Caterers
With a network of over 16,000 food trucks, carts, pop-ups, and caterers, we offer the best, proven selection of reliable and delicious catering options.
We are
Pros
Facilitating over ten million meals since our inception, we know what it takes to make your event a yummy success. Book with Roaming Hunger knowing that you are working with the most experienced team in the industry.
Hawaiian Food Truck Catering For Any Event In Los Angeles
How It Works
1
Give Us Details
Tell us when & where you want food truck catering.
2
Choose Your Cuisine
We'll send you a list of available food trucks.
3
Get Ready to Dig In
We'll negotiate the best rate and coordinate the logistics.
Just a few of the people who have eaten lunch with us