Poke Catering in Los Angeles
Top Poke Caterers in Los Angeles
Poke 2 Go truck brings you delicious and accessible Hawaiian Poke, mixing fresh high quality Ahi Tuna and local-sourced ingredients and unique flavors with a California Fusion. Check out this great truck on the streets of LA, or bring it to you!
Preferred Caterer, Seafood, Hawaiian, Poke
Pop-Up, Food Truck
Go Beyond the Bowl with some of the finest teriyaki, poke, and more on the streets of SoCal!
Preferred Caterer, Seafood, Poke, Savory
Food Truck
On-Set Catering, Huge Events, Corporate Catering
City: Los Angeles Sur Sushi is doing up sushi in snazzier ways than Panorama City's ever seen, and that's before you even consider they're doing it on four wheels. Rolls get made right in front of you, from spicy tuna to exotic rotating special catches, and taste as fresh as they come, alongside poké bowls and grilled proteins that give every kind of eater a reason to smile. It's LA seafood bliss that hits you raw, and with full flavor, and it's changing the valley's sushi game stop by stop. Track down Sur Sushi to get a handle on it all, or book them for your next event - it'll be five star sushi magic performed right in front of all your friends. Pretty snazzy, to be honest. <strong>MUST TRY <li>Poké Bowl</strong> - chunks of yellowfin tuna mix with avocado, jalapeño and onions in big Hawaiian style.</li> <li><strong>Ice Cream</strong> - homemade and unlike any other in town, it's an unlikely chaser to your meal, but a necessary one. Obviously.</li>
Preferred Caterer, Poke, Savory, Ice Cream
Food Truck
Check Out The Best Poke Catering Menus Near You
Original Poke
Raw Ahi Tuna, Yamasa soy sauce, sesame oil, & white sesame seeds.
Spicy Poke
Raw Ahi Tuna, OG recipe plus spicy mayo & Sriracha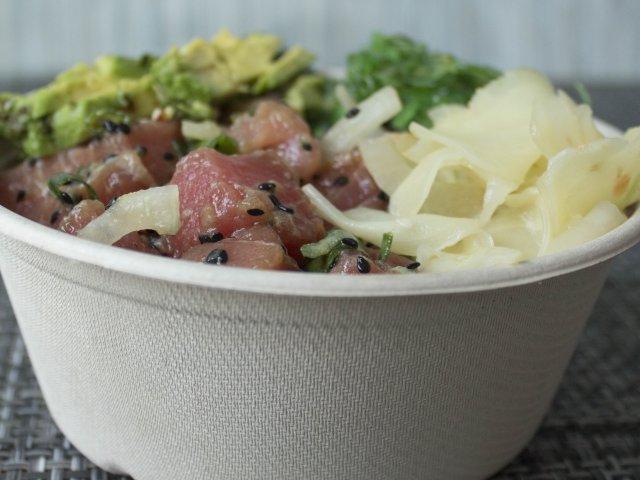 Wasabi Poke
Raw ahi tuna, dash of wasabi, "The OG" recipe, plus black sesame seeds
Aloha Poke
Raw Ahi Tuna, Aloha soy sauce, sesame oil, white sesame seeds, seasoned rice vinegar, sea salt, & crushed red pepper
Seared Ahi Tuna Bowl
A bed of white rice covered with grilled veggies & our seared ahi tuna with our special seasoning, topped with cilantro, green onions and ponzu sauce
Poke Bowl
A bed of white rice and your option of salmon or yellowfin tuna, ginger, seaweed salad, cucumber, avocado, crab meat, creamy Sriracha, spicy Sriracha, ponzu sauce and sesame oil, topped with green onions and cilantro
Why Work With Us?
Every food truck catering is protected by the 120% Roaming Hunger Service Guarantee.
We guarantee every catering, every time. Because food just tastes better when you have peace of mind. For more details, click here.
Protected
Payments
We hold the caterer's payment in escrow to guarantee you get fantastic day-of service. Our vendors get paid in full only after each event, ensuring your payment is protected.
Just-in-Case
Support
Every event booking comes with our Just-in-Case Support program to make sure that if anything unforeseen happens, we can have a great replacement ready to roll.
Verified
Caterers
With a network of over 16,000 food trucks, carts, pop-ups, and caterers, we offer the best, proven selection of reliable and delicious catering options.
We are
Pros
Facilitating over ten million meals since our inception, we know what it takes to make your event a yummy success. Book with Roaming Hunger knowing that you are working with the most experienced team in the industry.
Poke Food Truck Catering For Any Event In Los Angeles
How It Works
1
Give Us Details
Tell us when & where you want food truck catering.
2
Choose Your Cuisine
We'll send you a list of available food trucks.
3
Get Ready to Dig In
We'll negotiate the best rate and coordinate the logistics.
Just a few of the people who have eaten lunch with us