Branded Food Trucks
Create a mobile billboard or an entire brand activation that will move your audience. Anywhere.
Take your brand on the road with a mobile experience
Take your brand to your audience with a mobile experience.
Branded food trucks combine the critical elements of storytelling and allow the brand to surprise and delight its audience, creating a sort of "one-two punch" that leads to a knockout experiential marketing activation. But there are many things to know about creating a branded food truck, so let's get into that now…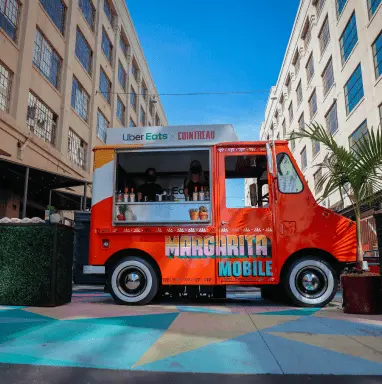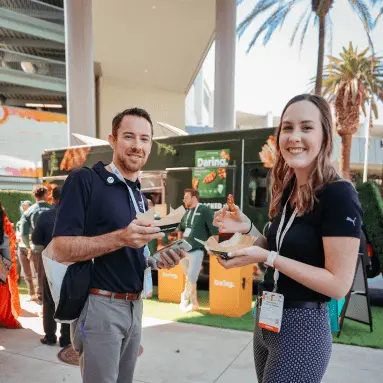 What is a Branded Food Truck?
A branded food truck is a type of experiential marketing vehicle designed to fit your brand or a specfic marketing campaign. The vehicle can be a food truck, trailer, or food cart, and it can be a new food truck build or an existing food truck that is repurposed specifically for your needs.
With over 12 years of experience creating branded food trucks, we can source the best equipment anywhere in the world using our over 19,000 vendors. From graphic design to the vehicle wrap, we'll set up you up for success from the first step.
Benefits of Creating a Branded Food Truck
Branded food trucks can serve as part of a food truck promotion, a mobile pop-up shop activation, or as part of a mobile marketing tour. These experiential marketing activations are an excellent option for CPG and food-based brands, as the food trucks come with a kitchen, and are mobile and versatile in footprint. While the centerpiece of a branded food truck is built around a food truck, the experience does not have to be food-related at all.
The branded food truck is a way to extend your brand and to take your marketing campaigns out of the sample aisles at conventions, Costcos, or malls and straight to wherever your audience will be at any given time. When done right, the branded food truck is either wrapped, painted, or outfitted with external fabrications to create both a mobile billboard that can reach your audience as it travels, and also an experience for your audience when they are physically at the branded food truck.
What are the Elements of a Branded Food Truck?
Here are a few of the elements that make a branded food truck a valuable asset to incorporate into your experiential marketing strategy:
Visual Experience - A stunning wrap can draw attention in a big way and serve as the centerpiece of your events.
Types of Branded Food Trucks
Branded food trucks come in all shapes and sizes, and can be properly sourced to best fit a brand's goals.
These custom vehicles are best for non-food brands.
Is your brand solely focused on giving out a large number of food-based samples? If so, the branded food truck needs to be selected with logistics in mind, ensuring that it can keep up with your required timeline and samples.
Is your brand's goal more focused on the marketing aspect rather than the samples? If so, a branded food truck can be selected that focuses more on the ability to brand the truck based on size and shape rather than the kitchen.
How a Branded Food Truck Works
A branded food truck offers the ability to extend your brand, to take it beyond the billboard, the direct mailer, or the digital ad appearing on someone's browser or social media feed. It allows your brand to connect with your customers offline and in the real world. Because branded food trucks are mobile, they also offer the ability to serve as a mobile billboard that can be taken to exactly where local expertise tells you that your customer base or potential customers are likely to be at a given time and day.
In our over 12 years of experience, we've learned that successful branded food trucks craft an experience that people remember, talk about, and most importantly, share.
Here are a few things to think about when creating a branded food truck:
Source the right equipment. If you're putting on a big experiential marketing activation, get a large scale food truck that will stand out. If you're fitting into small spaces, get a food cart that can do the job.
Wrap it up. Getting the vehicle wrap wrong can be a costly mistake. Make sure it looks great by working with a designer and creative team that has experience creating branded food trucks.
Know your budget. Unless your budget is unlimited, have a range in mind so that we can let you know what's possible.
Get the right permits and legal documents. Make sure that you don't get shut down before you pass out the first sample.
Hire a great on-the-ground team. Whether you need chefs on the truck or brand ambassadors delighting passersby, you need the right people to set up, put on the activation, and break down the entire experience.
Utilize local knowledge. If you're going to new markets, use local experts that can help you get the details right, from locations and hours to food and operations.
Branded food trucks also provide the ability to control the experience and perception that your audience takes away from the experience (far greater than most sampling or giveaway campaigns provide). They can provide a brand with valuable insights into how it is perceived by the audience, the way in which your audience interacts, and capture data through a variety of real-world methods offered directly by your customers. Because branded food trucks are extremely mobile, they even offer the ability to test different locations within the same region on the same day, serving as a mobile billboard while extending your brand throughout an area.
Our DNA is in the food truck industry. Since 2009, we've built a network of over 19,000 food trucks, trailers, and carts all over the world. Our experience will save you time and budget because we'll only hand you the keys when every single detail is taken care of.
What Types of Companies Benefit from Branded Food Trucks?
Food and Beverage
Take your product to where your customers are to grow brand affinity or get instant feedback for new items.
Restaurants
Step away from the traditional brick & mortar and take your menu items on the road to attract new customers.
CPG
Extend your brand beyond the stores, and use branded food trucks to deliver limited edition items or to provide an experience for your customers.
Branded food trucks provide the unique ability to extend a brand beyond the walls of a brick & mortar store, taking your products on the road to where your customers or audience are. These vehicles are a natural fit for food and beverage or restaurant brands, but can also be utilized for the "surprise & delight" factor by CPG and other brands as well.
We've worked with brands in the financial industry, CPG, tech sector, entertainment (movies, television, and music), telecommunications, hospitality, travel, and many others. We've learned that the only limiting factor for a branded food truck is your imagination.
The ability to build an experience and take it to where your customers are makes this type of experiential marketing activation a valuable asset for any brand looking to connect with its audience, test new products, or introduce itself to new potential customers.
Case Studies
Just a few of the brands we've worked with in the past decade to create branded food truck promotions and mobile experiential tours.
Immigrant's Heritage Month
I Am An Immigrant
Foodies and culture enthusiasts alike had a feast for their senses during the recent 4 market event, which celebrated The Food that Made Us in honor of Immigrant Heritage Month. Hosted by Soze Agency in collaboration with RMNG, the event brought together culinary teams from across the nation to curate a custom menu that would tantalize taste buds and celebrate different cultures.
NotCo 6 Market Tour
NotCo
RMNG partnered with NotCo to hit the road and bring the ultimate coffee experience to six cities across America. With a fleet of custom-branded trucks, we served up delicious hot and iced coffee to the masses and spread the word about NotCo's plant-based Not Milk along the way.
Frequently Asked Questions
What is a branded food truck?
A branded food truck is a type of experiential marketing vehicle that is wrapped in a company's branding. The purpose of a branded food truck is to put on an event or serve as a mobile billboard to engage the company's consumers.
How much does a branded food truck cost?
Because there are so many different elements that can go into a branded food truck, the cost of a campaign can be anywhere from $20,000 to over $1 million. These costs may incorporate things like staffing of brand ambassadors, flights, fabrication costs, permitting costs, marketing costs, and other types of factors. The sky is the limit with branded food trucks, and the costs will be determined by how intricate the brand wishes the promotion to be.
How do I create a branded food truck promotion?
A branded food truck promotion is comprised of different elements, which will change depending on what the goals of the brand are, where they want the activation to take place, and what type of experience they want to create for their audience. At a high level, brands planning a food truck activation need to focus on:
Having the right equipment, brand ambassadors, infrastructure, and permitting
Ensuring that you start with clear goals upon which to build your strategy
Scouting your locations to ensure they will work for your activation (and have permits)
A great on-the-ground team
Someone to manage and execute the food truck promotion
A sufficient budget to build and sustain your activation.
A branded food truck can provide an engaging, immersive, and memorable experience for your audience and potential future customers. The keys listed above to creating, managing, and executing a successfully branded food truck can be the difference between one that leaves your customers with a lasting impression versus one that they soon forget. Taking the time to plan the activation accordingly, focusing on the experience that your audience will take away, and having an experienced on-the-ground team can make all of the difference with these experiential marketing activations.
Ready to Launch a Branded Food Truck?
(424) 777-2550